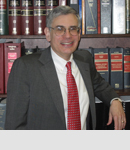 Michael A. Meyers, B.A., J.D., L.L.M.
... attended New Canaan High School and graduated from the University of Connecticut in 1966. He is a recipient of both a Juris Doctor degree (1969) and a Master's of Law Degree in Taxation (1970) from Boston University School of Law. He is admitted to practice in all Connecticut courts, as well as before the United States District Court, the United States Courts of Appeals and the United States Supreme Court. From 1970 to 1971, he served as the Law Clerk to the Honorable John P. Cotter, Chief Justice of the Connecticut Supreme Court.
Mr. Meyers is a member of the American, Connecticut and Bridgeport Bar Associations. In 1979, he was appointed by the Connecticut Judiciary to be a member of the State Bar Examining Committee. His article entitled "Application of the Corporate Opportunity Doctrine to the Purchase of a Corporation's Stock by Fiduciaries of the Corporation" has been published in the Connecticut Law Journal.
A Fellow in the prestigious American Academy of Matrimonial Lawyers, Mr. Meyers was President of its Connecticut chapter. He is an original member of the International Academy of Matrimonial Lawyers. He is also a member and has been Chairman of the Bridgeport Bar Association Family Law Section, and has written and lectured statewide and nationally on the subject of matrimonial law. Mr. Meyers is listed in the book The Best Lawyers in America, Connecticut Magazine (Best Lawyers in Connecticut) and New York Magazine (Best Lawyers in New York, New Jersey and Connecticut). He has also received citations from the Connecticut Judiciary for his work with the court in the area of matrimonial law. Mr. Meyers has participated in the Special Masters settlement programs (Stamford, Bridgeport, New Haven, and Middletown).
In his community, Mr. Meyers, has served on the Town Council as a councilman and Majority Leader, as well as co-chairman of the Friends of the Library.
Practice Areas: Family Law. E-mail: mmeyers@mbnllp.com